Yes, I'm back on cheese, again.  Y'all should probably get used to this…there will be more to come, lots more…I'm just sayin'.
So, this is one of those copycat recipes for the cheese dip at Casa Ole and I decided I had to try it.  It's a really good chile con queso. Seems that plain old American cheese is the key ingredient for a few Mexican restaurant cheese dips that everyone loves. Think I'm going to try to make Berryhill's next.  I found the cheese in the deli department at my grocery store and bought it by the pound and grated it at home.
This chile con queso make a great appetizer!
Casa Ole Chile con Queso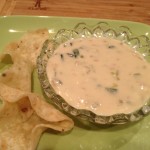 Prep time:
Cook time:
Total time:
Yield:

4-6 or just me

Difficulty:

easy
Ingredients:
4 cups American cheese, grated

4 Tbs butter

1/2 cup onion, chopped

1/4 cup celery, chopped

1/4 cup bell pepper, chopped

1/4 cup jalapeno, seeded & chopped

1/2 tsp garlic powder

1/4 cup milk
Directions:
Melt butter in saucepan, add all veggies and garlic powder, saute until tender…simmering for a few minutes, stirring frequently.

Add milk and heat, and then stir in cheese a little at a time until melted and creamy. You might need to add more milk. Salt to taste.

Serve with tortilla chips.
Published on by Carolyn
Tagged: appetizer, casa ole chile con queso, cheesy, creamy, dip, easy, easy cocktail, Mexican, tex-mex