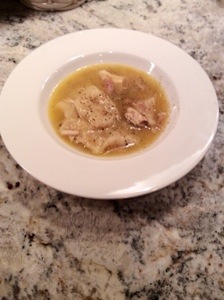 Glorious and comforting chicken and dumplings.
I prefer the rolled dumplings over the puffy ones and I love how this recipe turns out. Some people say to make your dumplings ahead of time and let them dry for a few hours, but I make mine while the chicken is cooking and then add them when the chicken is cool. When your dumplings are through cooking, if they feel a bit gummy, they are just not done yet. Sometimes, I just turn the heat off and let everything rest for a few minutes. The dumplings and chicken and broth just thicken and meld together into this wonderfully creamy goodness. Love, love, love! They're even better the next day.
This recipe feeds a lot, so invite everyone over and enjoy! They will be impressed.
3-4 lb chicken
1 medium onion, chopped
2 cups celery, chopped
2 bay leaves
2 garlic cloves, minced
2 tsp poultry seasoning
2 tsp salt
1 Tbs pepper
2 chicken bullion cubes
3 Tbs butter
In a a large stock pot, place all ingredients and add enough water to cover the chicken by an inch or two. Bring to a boil, then reduce heat to a simmer and let the chicken stew for about an hour or so, until it is very tender and starts to fall off the bone. Slow cooking creates a very moist result. Remove chicken from the stock, let cool and debone. Cut chicken into bite size pieces and set aside.
Dumplings
2 cups flour
2 Tbs butter, diced
1 cup liquid (milk, buttermilk or cooled stock)
Sprinkle of salt & pepper
Extra flour for rolling
While your chicken is boiling, start making the dough. Place 2 cups flour in a large bowl & add butter, salt & pepper. Rub the butter into the flour mixture with fingertips until you see coarse crumbs. Stir in liquid, adding additional flour if too sticky or liquid if too dry. This should be a soft workable dough.
On a well floured surface, knead the dough a couple of times and roll out very thin, about 1/8-1/16 inch thick. Cut into 1-2 inch pieces and dust with more flour so that nothing sticks. The extra flour on each piece will thicken the broth later. Let your dumplings sit out to dry a bit until the chicken has cooled and you're ready to assemble.
Bring the stock to a boil, then turn down to a medium rolling boil, not high. Start dropping the dumplings into the pot, 1 or 2 at a time, making sure they get caught in the 'boiling' part of the liquid so they don't sit on top or stick together. Do not stir! Gently move a large spoon through the broth to keep them moving and so they don't stick to the bottom.
Reduce to simmer and cook for about 15-20 minutes or until tender. You might need to add a bit more water if it starts to thicken too much. Add chicken pieces and simmer another few minutes, stirring gently so dumplings don't break apart. Add salt and lots of pepper to taste. Enjoy!
Tagged: creamy, home style, homemade, old fashion, rolled chicken dumplings, southern