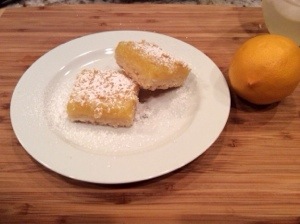 Sweet, tart and buttery, these bars are that perfect combination for that perfect dessert.
Meyer lemons are said to be a cross between a regular lemon and a Mandarin orange. This creation is less tart, a bit orangey and incredibly fragrant. We have a wonderful little dwarf Meyer lemon tree in the backyard and with quite a nice harvest recently, I had to start coming up with all sorts of recipes to use them all. Now, you can use regular lemons for these bars, but I needed to use what I had…which was lots and lots of Meyers!
Crust
1/2 cup butter, room temp
1/4 cup powdered sugar
1 cup flour
1/8 tsp salt
Lemon Filling
2 eggs, room temp
1 cup sugar
1/3 cup lemon juice
1 Tbs lemon zest
2 Tbs flour
Extra powdered sugar for dusting
Preheat oven to 350. Grease and flour one 8×8 inch pan.
Combine butter and sugar till creamy, then add flour and salt, mixing well. Press the dough evenly into the 8×8 pan and bake 20 minutes at 350.
After 20 minutes, remove the crust and start on the filling. The crust does not need to cool first.
Whisk flour with sugar, then add eggs, beating till smooth. Add lemon juice and zest, mixing well. Pour filling mixture over crust and bake for another 20-25 minutes or until set.
Cool, cut into bars and sprinkle with lots of powdered sugar. This recipe can be doubled for a 9×13 inch pan.
Tagged: easy desserts, lemon bars, meyer lemon, meyer lemon recipes, sweets