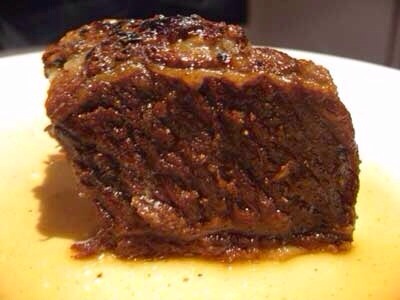 Braised short ribs are such a comforting meal, especially served with creamy mashed potatoes or polenta… Wow, such a great dish that makes the perfect presentation for a dinner party. Your guests will think that you slaved for hours over these, but you don't have to tell them the truth.
They are quite easy to make….you basically sear them, add some veggies and liquid, and then braise them till tender. The slow braising is the trick to extremely tender meat. Easy, easy, easy.
Now, you can use beer instead of wine, or just use beef broth, whatever you like. It's hard to get these wrong, so change it up with flavor you like. The vinegar adds just a nice finishing touch to the flavor, but you don't know it's there.
Sometimes I add a tablespoon of chipotle for a hint of smoky depth or just some crushed red pepper. IF you like a bit of heat.
Also, these are better made the day before and then slowly reheated before serving.
1 bottle of good red wine (Cabernet, Zinfandel…)
4-5 lbs (approx 6-8 ribs) beef short ribs, flanken style
1 small onion, chopped
1 cup celery, sliced
1/2 cup carrots, sliced
3 garlic cloves, minced
6 slices good smoked bacon
2 Tbs canola oil
4 cups beef broth or consommé
2 tsp thyme
2 Tbs balsamic vinegar
Approx 1 cup flour
Salt & pepper
In a medium sauce pan, add the entire bottle of wine and boil till reduced by half.
Dry the ribs, season well with salt and pepper, then dust with flour.
Fry the bacon slices in a large Dutch oven and remove, leaving fat in pan. Let bacon cool, then crumble and set aside. Add oil to the bacon fat and start frying the ribs in batches to get a good sear on them…just a few minutes. Remove ribs to a plate and set aside.
In the same Dutch oven, add the bay leaf, thyme, onions, carrots, celery and garlic, along with 1 tsp salt/pepper and sauté on high heat for a couple minutes. Add 1 Tbs flour to veggies and cook for another couple of minutes, stirring well.
Pour in the beef broth, reduced wine and balsamic vinegar, stir, then add ribs (along with any drippings) and bacon pieces. Bring to a boil, reduce to a simmer.
Simmer the short ribs on very low heat until fork tender or almost falling off the bone, about 1 1/2 to 2 hours.
Remove the ribs to a platter and serve over creamy, buttery mashed potatoes or soft polenta & cheese! So incredibly good.
Tagged: braised beef short ribs, comfort food, easy dinner part entree, easy short ribs, hearty, soul food