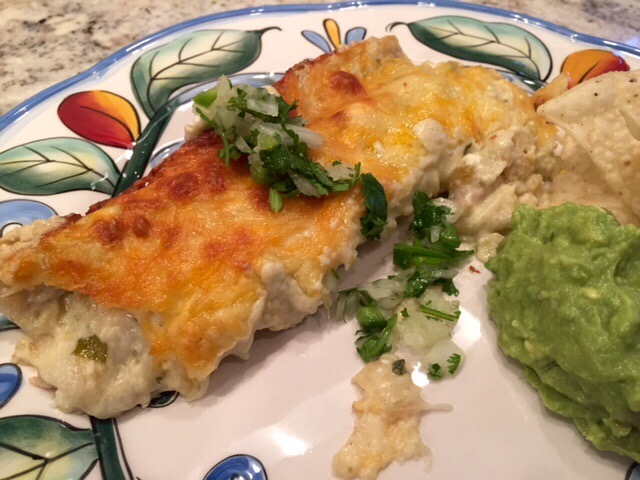 If you're in the mood for easy, creamy enchiladas, then this is your recipe. I picked up a rotisserie chicken at the grocery store, deboned and chopped it all up to make it even easier.
The sauce is a cinch to throw together and is absolutely wonderful. Just assemble everything and bake.
4-5 cups chicken, cooked & diced
12 flour tortillas
1 10 oz can green enchilada sauce
1 7 oz can salsa verde
1 cup sour cream
4 cups grated cheese (Monterey jack &/or Mex blend)
Garlic salt
Preheat oven to 350.
Pour sauce, salsa and sour cream into a medium saucepan and heat over medium-low heat, until blended. Add garlic salt to taste.
I like to create an assembly line to make the enchiladas….and set all this out on the counter.
Pour the cheese into a large bowl and the chicken in another.
Spread a couple of tablespoons of sauce in bottom of a 9×13 pan.
Place about 1/3 cup of chicken on a tortilla, then top with a couple Tbs cheese and roll up and place seam side down into pan.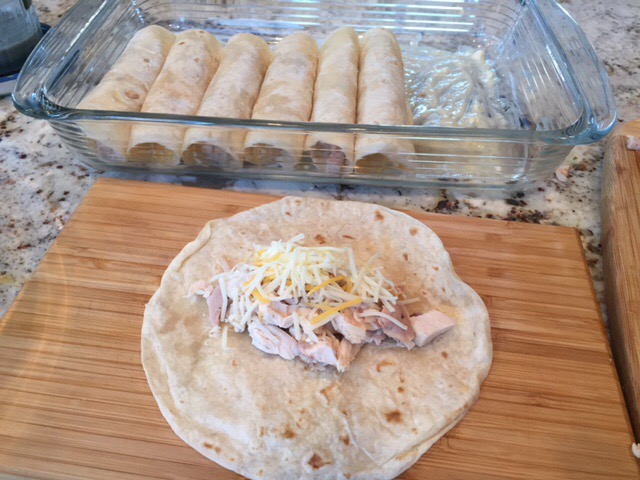 When the pan is full, pour the sauce over all enchiladas and top with remaining cheese.
Bake for 20-25 minutes or until bubbly and light brown on top. I cooked my a bit too long and they were still awesome. Simply awesome!!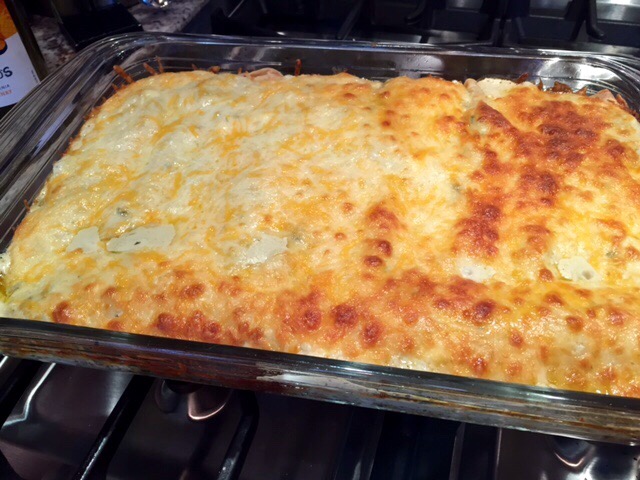 Serve with my onion salsa, guacamole and margaritas!! Now that's a party!
Tagged: creamy, easy creamy white chicken enchiladas, easy enchiladas, easy tex-mex